Gothic rock band from Prague.
We are the gods. We are the goths. We are the children of the blackest hole.
This message is only visible to admins.

Problem displaying Facebook posts.
Click to show error
Error: Server configuration issue
Steve Mecca, Chain D.L.K.:"First, you need to know this is not the "modern goth" that sounds either like electro or some alternative melodic metal with a sprig of darkness. This is old school goth that harkens back to Sister of Mercy, Christian Death, and Fields of the Nephilim. Great!"
Gav The Gothic Chav:"Essentially, this is equally superb as both a debut AND a gothic rock record."
Sanctuary.cz: "There hasn't been a gothic-rock debut so interesting for such a long time!"
Coming from mysterious Prague with unrecorded past that goes back to the times before the fall of the Iron Curtain and early 90s, the dark legend appears from nowhere and is here to please all the fans of classic gothic rock. And what is more, it will do so in the 21st-century vibe. Their first record, EP Children Of The Blackest Hole, was released in December 2019.
The two key members Phil Lee Fall, a vocalist and a lyricist, and Gatsby, a composer and a bass, keyboard and guitar player, are accompanied by the angel's voice of Ambra von Bernstein and the wild pair of guitarists Billac deVille and Mr Theorodick. Cathedral In Flames is now working on their first regular full length album of which the release is planned for the end of 2020. The little sample that should entice the gothic rock lovers into the record is the new anthemic single called Desperado.
"Our last record Children of the Blackest Hole was full of summer themes. Deserts, dust, sweat and heat. Desperado will be sort of winter record full of ice, blizzards and hands frozen to the wheel. Gothic rock sharp, biting and cold as whiskey on the rock."
"Composing Desperado was a great opportunity to take my hat off (which I don't usually do) to the legends. To me, it seems as if Johnny Cash meets Sisters of Mercy on The Fields of Nephilim. And I love to create a pompous sound that is for our style so natural."

So here we go on our wild horses! Enjoy the deep baritone of Phil Lee Fall and the stonewalls-breaking bass from Gatsby in the hit created for the whole old-school goth community!
The music and lyrics of Cathedral In Flames
are fully aligned with the gothic rock genre
without being pastiche: all the songs are special
in their own right, with their own atmosphere
and arrangement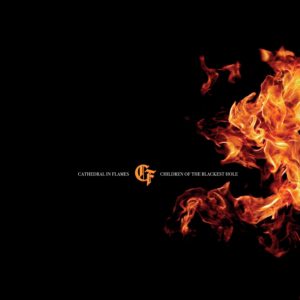 Children of the Blackest Hole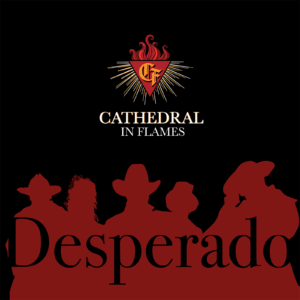 What the media wrote about us
If you want to see us live at your event or you have a question, please contact us on email: